Crunchy Tech has completed work on custom Video Wall and A/V Systems at Lion's Pride Pub & Grill (123 W Church St Orlando, FL 32801) in the heart of Downtown Orlando, FL — just minutes away from the Orlando City Soccer Club's new stadium (655 W Church St, Orlando, FL 32805).

The work completed by Crunchy Logistics includes full Audio and Video solutions to 50+ displays, 12 different audio zones, and boasts a gigantic, 16-screen video wall, which can be viewed from the comfy upstairs theatre seating section or from the downstairs restaurant tables. "When the Lion's Pride team expressed interest in working with Crunchy on their new restaurant concept, the entire Crunchy team was more than thrilled! We are all Orlando City Soccer fans, with a few of team members holding season tickets since the inaugural season.", boasts Leonardo Moretti, Director of Operations at Crunchy Logistics. "Once we got started on the design, we knew we had to make this venue stand out in front of all the other Church St. concepts. The first thing that came to mind was the word – BIG." The robust system allows Lion's Pride Pub & Grill to show Orlando City and Orlando Pride home or away games on all of the screens at the same time or different channels on each display, depending on their needs. And it's all controlled via a single, convenient iPad. With this centralized control system, otherwise annoying tasks like changing the channel on one specific display or changing the sound for the whole venue to a game broadcast is simple and quick.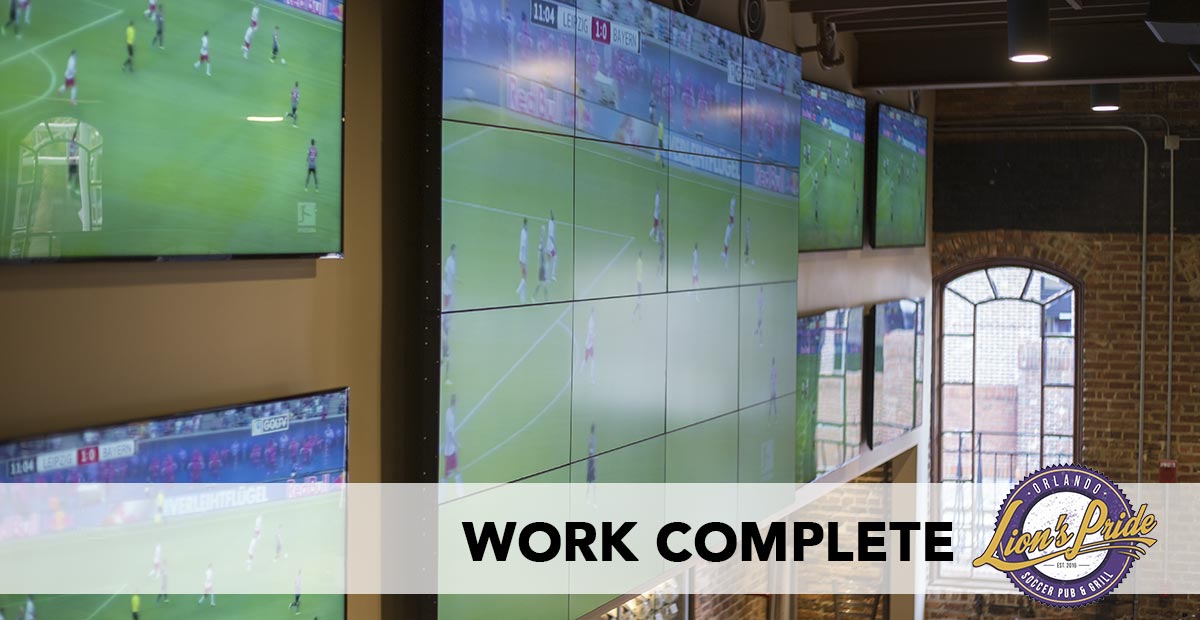 Crunchy Logistics completed the job on May 10, 2017. Lion's Pride Pub & Grill is celebrating its Soft Opening now and officially opened for the first time on May 11, 2017. For more information on Lion's Den Pub & Grill, visit their facebook page @ https://www.facebook.com/LionsPrideOrlando.