Distributed Audio and Video
When it comes to hotel AV systems, you don't want to settle for anything less than the best. That's where Crunchy Tech comes in, offering unbeatable pricing on high-performance, commercial-grade equipment from industry-leading manufacturers like Bose, Klipsch, Samsung, LG and more. Our comprehensive warranties and professional systems design ensure maximum peace of mind for our clients, as well as local installation and service. Whether you need paging systems, sound masking, conference room AV or anything else, Crunchy Tech is here to provide top-notch audiovisual design for your hotel business needs.
Looking to enhance your hotel guests' experience? Reach out to us now.
Hotel Lobby AV
Lobby Audio Visuals for Your Hotel
Looking to create an unforgettable experience for your hotel guests? At our custom audio visual design and installation company, we specialize in hotel lobby AV integration that will leave your guests in awe. With our team of experts and top manufacturers of audiovisual equipment, we can create a hospitality audio visual system that will give your facility the WOW! factor. By providing enhanced interactivity such as touch screens, video conferencing, and collaboration capabilities, your guests will be impressed with your updated technology. Our integrated control systems for all components, including customized messaging, will ensure your guests are informed and entertained. Let us take care of the details, so you can focus on building an advantage in a highly competitive market. Contact us today to get started on creating a memorable experience for your guests with our hotel lobby AV integration services.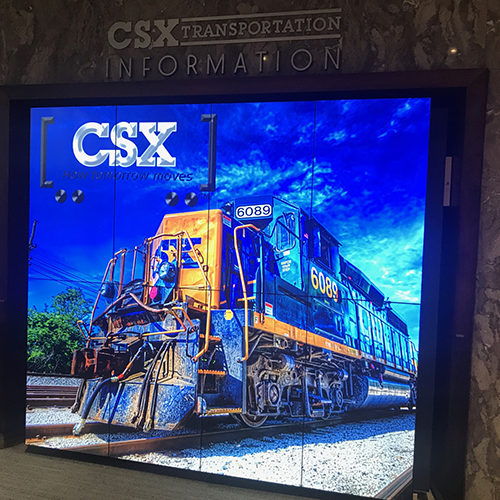 Outdoor Audio Visual
Enhance Your Outdoor Experience
As a hotel operator or manager, you want your guests to have the best experience possible. And that's why perfecting your outdoor spaces is just as important as your indoor ones. Don't let your guests miss out on any of the beautiful sights and sounds that your outdoor areas have to offer. With hotel AV integration, you can provide top-of-the-line outdoor audio visual services in a seamless and sophisticated manner. There are a range of hotel AV companies that specialize in outdoor audio visual installations for hotels, so you don't have to worry about a thing. Make your hotel stand out and enhance your guests' experience with stunning outdoor audio visual capabilities.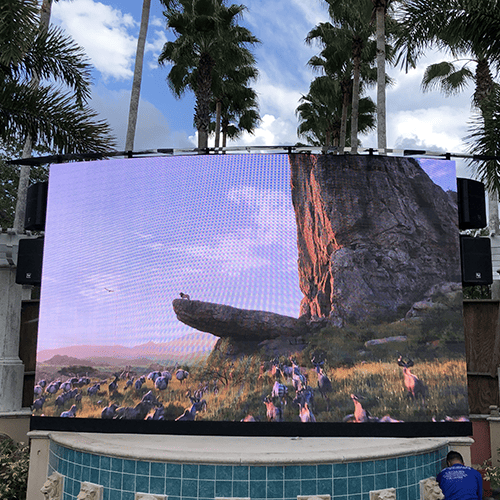 Conference Room, Meeting Spaces, Ballroom AV
Audio Visuals For Your Meeting Spaces & Conference Centers
When it comes to hosting successful conferences, meetings and events, a crisp and clear AV setup is crucial. That's where we come in – with our expertise in Hotel AV Integration, we offer customized solutions for all your audio-visual needs. As one of the leading hotel AV companies, we provide a range of services to ensure your conference room, meeting spaces and ballroom AV is seamless and professional. Our state-of-the-art equipment and professional technicians help keep your audio and visuals crisp and clear, adding that extra edge to your event. Get in touch with us today and let us transform your space into a crunchy tech haven.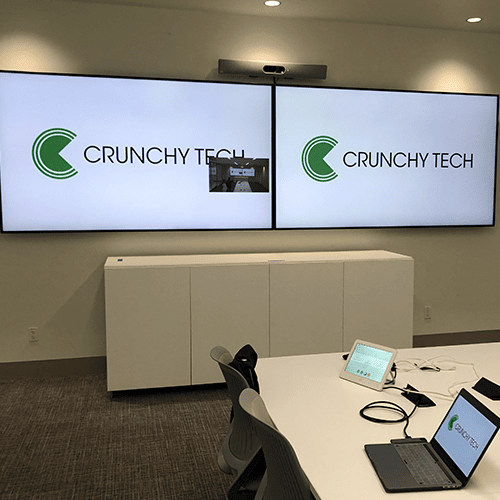 Video Walls, HD Displays & Projection
HD Displays & Projection
Upgrade the audio visual experience at your hotel with Crunchy Tech's state-of-the-art hotel screen display system. Our 4K displays are commercial-grade and offer the highest quality picture available. Whether you want to enhance your hotel lobby or conference room, our LED and LCD displays will elevate the atmosphere and impress your guests. Need projection capabilities? Our hotel AV system includes top-of-the-line projectors, allowing you to showcase presentations or screenings in stunning quality. Choose Crunchy Tech for all of your hotel display needs, and let us help you create an unforgettable experience for your guests.
Video Walls
At Crunchy Tech, we take pride in delivering high-quality, state-of-the-art AV solutions for hotels. Our customizable video walls are no exception. Designed with LED technology and advanced features, these video walls are the ultimate solution to upgrade your hotel's dining experience. Our AV experts understand the importance of creating a captivating atmosphere for your guests, which is why our video walls are tailored to meet their preferences. Imagine the possibilities of displaying enticing culinary footage or even an art installation. The opportunities are endless with our video walls. Warranted to provoke engagement and elevate the dining experience of your guests, invest in our cutting-edge technology today.
Hotel Digital Signage
Revolutionizing Guest Engagement with Cutting-Edge Digital Displays
When it comes to elevating the overall experience in your hotel, it's all about the details. That's where Hotel Digital Signage comes in, offering a sleek and professional way to impress your guests from the moment they walk in the door. With state-of-the-art touch screen kiosks and interactive maps that offer wayfinding, dining recommendations, and local hotspots, your guests will feel truly taken care of. And with our services, you can rest assured that the installation and setup of Hotel Digital Signage will be seamless and hassle-free. Ready to take your hotel brand to the next level? Contact us today to learn more about how Hotel Digital Signage can enhance your guests' experience.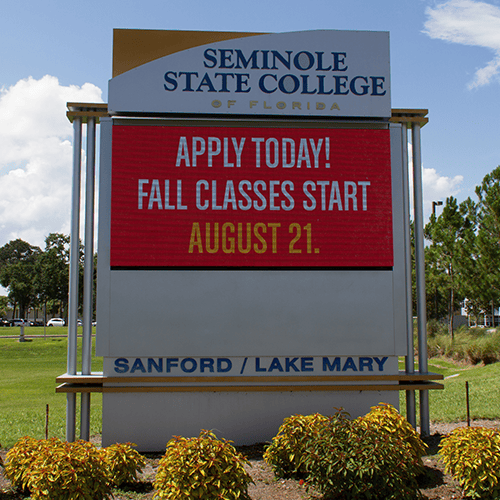 Audio Distribution & Sound Systems
Looking to ramp up the atmosphere in your hotel and keep your customers coming back for more? Look no further than the power of Crunchy Tech's high-quality sound systems and audio distribution services. With our innovative hotel av design, we can help create an immersive experience for your patrons that will leave them raving about their stay. From top-notch audio quality to seamless distribution systems, our hotel audio distribution services are sure to elevate the music and excitement in your hotel to the next level.
Revolutionize Your Hotel Sound Systems
Our team of audio experts offers consultation and installation of commercial audio systems that will revolutionize your hotel experience. Imagine guests relaxing by the pool with crystal clear sound, partying the night away in your hotel bar with high-quality audio, or enjoying a delicious meal in your restaurant with the perfect ambiance. Our hotel sound systems will provide the perfect soundtrack to your guests' stay and elevate their experience to a whole new level. Let us help you create an unforgettable guest experience with cutting-edge audio technology.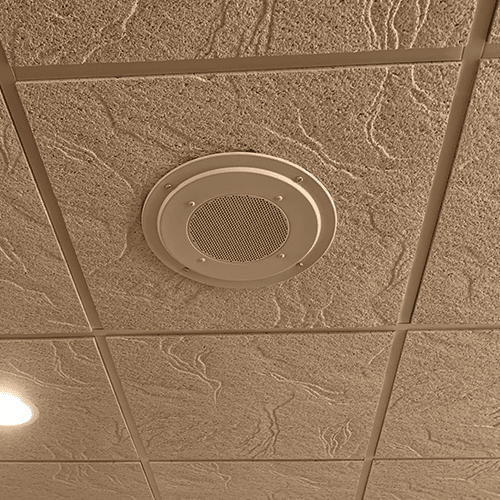 AV Systems For The
Next Generation
See how Crunchy Tech solutions can craft a better hotel experience for your guest