Distributed Audio and Video
At Crunchy Tech, we understand the importance of having a top-of-the-line Sports Bar AV System. When it comes to watching the game with friends, there's nothing better than having a display that is clear and vibrant, along with a sound system that brings the excitement of the game to life. Our Distributed Audio and Video services ensure that every seat in the house is the best seat in the house when it comes to viewing sports. From basketball to football, our Sports Bar AV System is the perfect solution for any sports enthusiast looking for a full viewing experience. Trust Crunchy Tech to provide top-notch service and equipment for your sports bar display and sound system needs.
Looking to enhance your sports bar guests' experience? Reach out to us now.
Video Distribution and Matrix Switching
Complete Control of Your AV
Picture this: It's game day and your sports bar is packed with fans eager to catch all the action on the big screens. The energy is high and the excitement is palpable. Now imagine being able to deliver crystal-clear video and audio to every TV in the bar, all while seamlessly switching between sources with the touch of a button. That's exactly what you'll get with Crunchy Tech's cutting-edge video distribution and matrix switching solutions. Our state-of-the-art systems ensure your sports bar AV system is running smoothly and efficiently, so you can provide your customers with the ultimate viewing experience. Whether you're a small neighborhood bar or a larger establishment, Crunchy Tech has the expertise and technology to bring your audiovisual systems up to speed. So why not take the first step towards enhancing your sports bar and delighting your customers – contact us today to learn more!
Video Walls, HD Displays & Projection
HD Displays & Projection
Elevate the viewing experience at your sports bar with Crunchy Tech's top-of-the-line audio visual system. Our commercial-grade LCD and LED displays are the perfect option for those looking to upgrade their visual setup. Designed to withstand the demands of a bustling sports bar environment, our HD screens and projection options will immerse your guests in the action. Whether it's the big game or a major sporting event, your customers will love the crystal clear display and vibrant colors that our screens offer. Improve customer satisfaction and retention with Crunchy Tech's sports bar AV system today.
Video Walls
Looking to upgrade the dining experience of your Sports Bar? Look no further than Crunchy Tech's customizable video walls. Our AV experts understand the importance of creating an immersive atmosphere for your guests, and we guarantee that our video walls will do just that. Imagine stunning, dynamic displays seamlessly integrated throughout your bar, captivating your customers from every angle. With displays of any size, you can ensure that your Sports Bar will stand out from the rest. Trust Crunchy Tech for all your AV solutions and take your business to new heights.
Outdoor Displays and Environments
Enhancing Open-Air Experiences: Advanced Outdoor Displays and Environments
If you're running a Sports Bar, you know that your outdoor spaces are just as important as your indoor spaces. That's why our Crunchy Tech team specializes in creating engaging, immersive AV experiences that will take your bar to the next level. With our top-of-the-line outdoor TVs, video walls, and immersive audio setups, your guests will feel like they're right in the middle of all the action. We understand that a great atmosphere is key to a successful sports bar, and we're committed to providing you with the best in sports bar outdoor AV. So why wait? Let us help you create the ultimate outdoor environment for your customers and take your Sports Bar to the next level.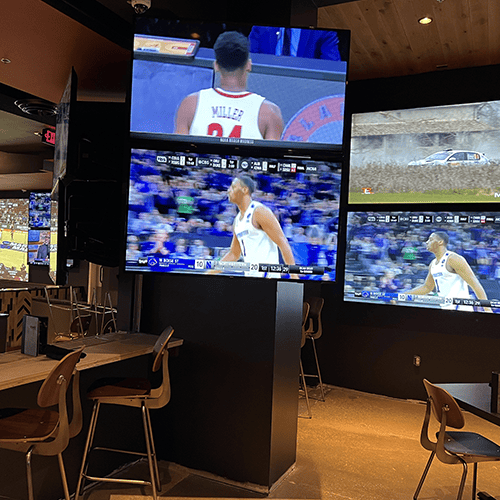 Audio Distribution & Sound Systems
Immersive Audio Excellence
At the heart of any sports bar is the atmosphere, the music, and the excitement of the games that keep customers coming back for more. With technology continuing to advance, one area that can make a significant impact is in the use of high-quality sound systems and audio distribution, helping to create an immersive experience for your patrons. Our dedicated team of experts specializes in sports bar sound systems and audio distribution, providing solutions that deliver the ultimate fan time experience. From custom-designed installations to flexible, scalable systems that can accommodate any size space, we're here to help you deliver game day in outstanding quality. With our top-of-the-line sound systems, your sports bar will become the go-to spot and keep your customers coming back time and time again.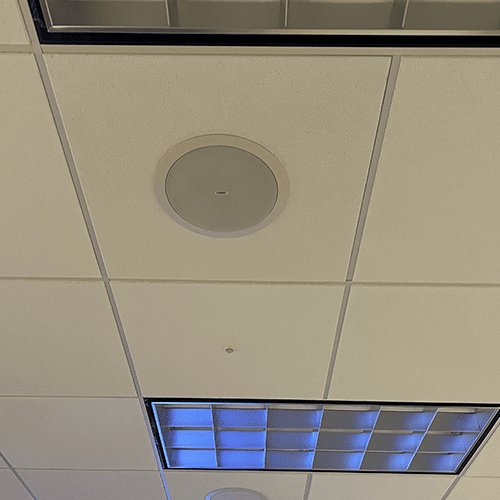 Digital Signage
Digital Signage Solutions for Sports Bars
If you're looking for a way to elevate the overall experience in your sports bar, Sports Bar Digital Signage is the answer. Aiming to impress your guests with more than just what's on the screen, this technology truly sets your establishment apart from the competition. From showcasing your menu items in a way that is vibrant and enticing to providing information about upcoming events, the possibilities really are endless. Let us help you create a custom solution that not only meets your needs but exceeds your expectations. With Sports Bar Digital Signage, you'll be well on your way to taking your guest's experience to the next level.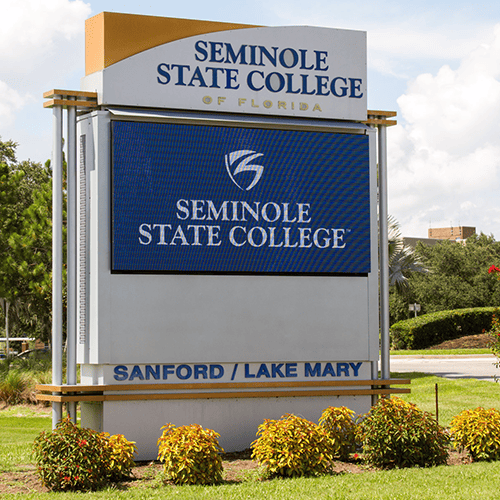 Sports Bar Background Music
Enhance Your Sports Bar Experience With Music
Looking for a way to amp up the excitement at your sports bar? Look no further than Crunchy Tech. We specialize in providing licensed music that sets the perfect tone for your bar environment, making your customers feel right at home. Our extensive playlist ensures that your patrons will never grow tired of the background music, creating an experience they'll want to come back to time and time again. Whether you are catering to avid sports fans or casual viewers, our technology is the perfect supplement to your bar's ambiance.
AV Systems For The
Next Generation
See how Crunchy Tech solutions can craft a better hotel experience for your guest