Distributed Audio and Video
Get ready to elevate your dining experience with our restaurant audio visual services! We understand that creating the perfect ambiance for your customers is crucial, and we're here to help. Our AV systems are affordable and tailored specifically for restaurants. From professional sound to digital signage, we have everything you need to make your space stand out. You won't have to worry about complicated controls with our user-friendly, single-button orchestration. Plus, our pre-configured AV over IP from Crunchy Tech ensures that you can route your videos and audios flexibly throughout your space. All of our high-quality equipment is from trusted names like Bose, Klipsch, Phillips, QSC, and Samsung. With our tailored system design and seamless integration services, you'll be able to create the perfect dining atmosphere with ease. Don't forget that we also offer restaurant music and expert installation services. At our one-stop shop for AV Systems, Digital Signage, and more, your restaurant has everything it needs to wow its customers!
Looking to enhance your guests' experience? Reach out to us now.
Restaurant Background Music
Licensed Background Music Solutions
When it comes to restaurant audio visual systems, we know that the right background music can make all the difference. That's why we're proud to offer our premium restaurant background music solution. Our expertly curated playlists are designed to enhance the dining experience – the perfect accompaniment to your delicious cuisine. With our AV systems, you'll be able to create a welcoming and sophisticated atmosphere that's sure to impress your guests, time and time again. So why wait? Elevate your restaurant's ambiance today with our outstanding background music solution.
Video Distribution and Matrix Switching
Control all of your Essential Equipment
Bring your restaurant's audio visual systems up to speed with Crunchy Tech's top-of-the-line video distribution and matrix switching solutions. Whether you're looking to host live events or simply enhance the atmosphere of your dining area with background music, we've got you covered. Our centralized management system allows you to control all of your essential equipment from a single location, giving you the power to customize every aspect of the guest experience. With advanced HDMI extenders, you can easily extend audio and video signals throughout your restaurant, ensuring that everyone enjoys an immersive entertainment experience.
Video Walls, HD Displays & Projection
HD Displays & Projection
Upgrade your restaurant's audio visual system with our top-of-the-line HD screens and projection options. Our LED and LCD displays are commercial-grade and built to withstand the demands of a busy restaurant environment. From live telecasts to dynamic menu boards and beyond, we have flexible display options to fit any space and meet diverse needs. Plus, our comprehensive warranties provide peace of mind. Our team of experts can handle everything from mounting to setup and after-sales service. Don't settle for regular HD screens designed for homes – elevate your restaurant's technology game with our attractive rates on premium commercial displays from trusted brands like Samsung and LG.
Video Walls
Introducing Crunchy Tech's customizable video walls, the perfect addition to elevate any restaurant's ambiance. As experts in AV solutions, our team understands the importance of crafting a dining experience that is both visually stunning and delicious. By seamlessly integrating dynamic displays of any size, we guarantee that your guests will be mesmerized by the stunning backdrop. Whether you're looking to add a touch of chic sophistication or a hint of playful fun, our restaurant video walls are the perfect solution to elevate your dining experience. Contact us today to learn more about our comprehensive services and how we can help you boost your restaurant's ambiance.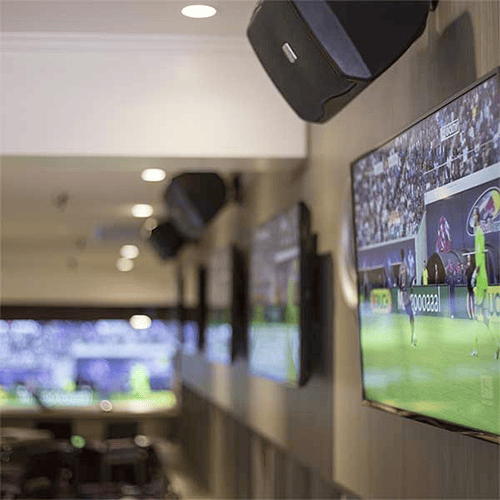 Outdoor Displays and Environments
Elevate Your Outdoor Experience
Take your restaurant's outdoor spaces to the next level with our cutting-edge AV systems that are designed to enhance your restaurant's outdoor dining experience. We specialize in providing top-of-the-line outdoor TVs, video walls, and immersive audio setups that will captivate your guests and make them feel like they're part of something special. Whether you're operating a scenic terrace, a bustling courtyard, or a rooftop lounge, our comprehensive range of outdoor AV solutions can transform your environment into an unforgettable and engaging ambiance. Trust in our expertise to take your outdoor displays to the next level and immerse your guests in an unlimited and unforgettable experience.
Digital Signage
In the fast-paced world of restaurants, it's important to stand out from the crowd. Presenting your menu in a unique and captivating way can make the all difference, and that's where Restaurant Digital Signage comes in. Imagine a bright, vibrant display showcasing your delectable dishes that catch every diner's attention. From the moment they enter your restaurant to the time they leave, your menu will be the talk of the town. With the convenience of swift updates for specials and prices, you'll always be ahead of the game, allowing you to deliver an unmatched customer experience.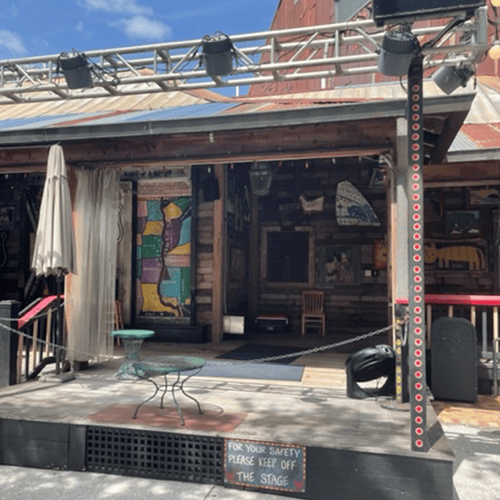 Audio Distribution & Sound Systems
Restaurant Sound Systems
As the restaurant industry grows and becomes more competitive, owners are looking for ways to stand out and elevate their customer experience. One area where technology can make a significant impact is the audio distribution and sound systems used throughout the space. By incorporating high-quality audio, restaurants can create an immersive atmosphere that enhances the overall dining experience. From background music to sound effects, having the right audio system can add that extra touch of ambiance that brings a space to life. Additionally, utilizing restaurant digital signage can take things to the next level by showcasing vibrant displays and captivating content that draws the eye and enhances the overall dining experience. With swift updates for menu specials and prices, restaurant owners can stay ahead of the curve and deliver an unmatched customer journey that keeps diners coming back for more.
Wireless Mic Systems
Our wireless mic systems are the perfect addition to any restaurant, ensuring that your guests can hear every word of your staff's announcements and presentations. With our sales and services, you can trust that your restaurant will have the technology to exceed your customers' expectations. Experience the difference with Crunchy Tech's restaurant wireless mic systems.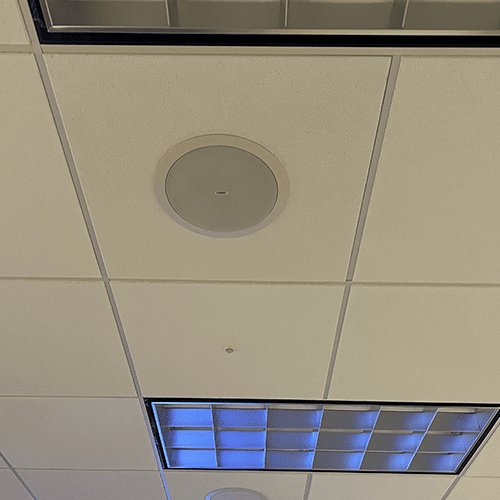 AV Systems For The
Next Generation
See how Crunchy Tech solutions can craft a better hotel experience for your guest