Creating the Ultimate Sports Bar with Over 80 Displays, Video Walls & AVoIP
Crunchy Tech had the recent pleasure of working on Tom's Watch Bar's newest location, a 12,000-square-foot sports bar at National Harbor in Washington, DC. To create the ultimate destination for sports fans, we were told to "fill every square inch with some type of AV." 
So that's what we did! With over 80 video displays, two video walls, projectors, two golf simulators, and an AV over IP system, every seat at Tom's Watch Bar is the best seat in the house. 
The Tom's Watch Bar project pushes the boundaries of typical audio-video installations, and the project was such a success that we're working on their next four locations. 
We install high-end AV systems in cities worldwide, so if you're a manager, builder, or contractor in the US, and you are looking for restaurant AV like this project, Crunchy Tech is your destination. Check out the Tom's Watch Bar project below. 
SEE ALSO: Increase Your Bottom Line with an AV Tech Refresh 

Building an AVoIP System 
How can a sports bar manage over 80 AV endpoints and ensure they all run smoothly? We implemented an AV over IP (Internet Protocol) system to transmit audio, video, and control signals over network cabling. With a strong network infrastructure, Tom's Watch Bar can expand and update the audio-video equipment anytime. We worked with the architects, designers, and network admins to plan where the AV system would fit inside the building and outdoors, tying IT with AV so that the complex system performs seamlessly.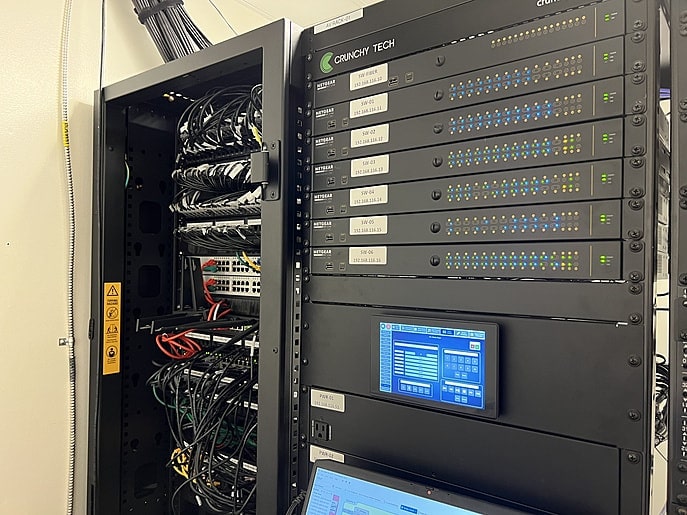 The Ultimate Customer Experience
Tom's Watch Bar wanted to offer guests 360-degree views of gameplay with personalized audio at every table. So whether a group wants to watch a UFC fight or an MLB baseball game, everyone can see and hear what they want. We installed nearly 90 visual displays across the bar and restaurant, including 14 outdoor TVs, two video walls, and projectors. 
But Tom's Watch Bar isn't only about watching sports. We also implemented audio and video distribution for two Swing Suite golf simulators by TopGolf. So while people practice their swing, the simulator's audio surrounds them. When the simulator's not in use, the speakers can play TV audio or music.

An Easy-to-Use Restaurant AV Control System 
The restaurant's AV system is very complex on the back end, with many moving parts. But the management at Tom's Watch Bar need an easy way to change the channel, switch stations on the audio speakers, and even hook up DJ equipment for events. 
To simplify things, we programmed the Q-SYS control system to display an intuitive, user-friendly interface on touch panels and wireless iPads. Rather than run to an out-of-the-way equipment rack to change the channel, staff can easily select the media they want and distribute it to the right displays and speakers. 
We installed an eight-zone audio system to play multiple sports broadcasts or a single source across the entire restaurant. We also implemented a microphone system so staff can make announcements for trivia nights, specials, or last call. Remote input plates allow DJs to hook up their audio equipment in the restaurant and play it over the speaker system. So whether ESPN is playing by the bar, soccer in the back, or music outdoors, it's easy to customize the atmosphere. 
Adapting, Evolving & Finishing the Project On Time 
Tom's Watch Bar required a massive AV project, and the owners hoped to open the new location in time for March Madness. When other vendors were unable to provide the necessary control and AV equipment in time, we pivoted by redesigning the system with a Q-SYS control system and a Just Add Power AVoIP network for video distribution. When the hardware was out of stock, we redesigned it to find a solution that worked, making sure Tom's Watch Bar got the open date (and incredible AV) they desired.
Tom's Watch Bar at National Harbor opened March 23rd, 2023, with seating for over 500 guests! If you're looking for AV solutions in your commercial space, contact Crunchy Tech here to learn more about our services and get started.