Crunchy Logistics At IAAPA Attractions Expo 2011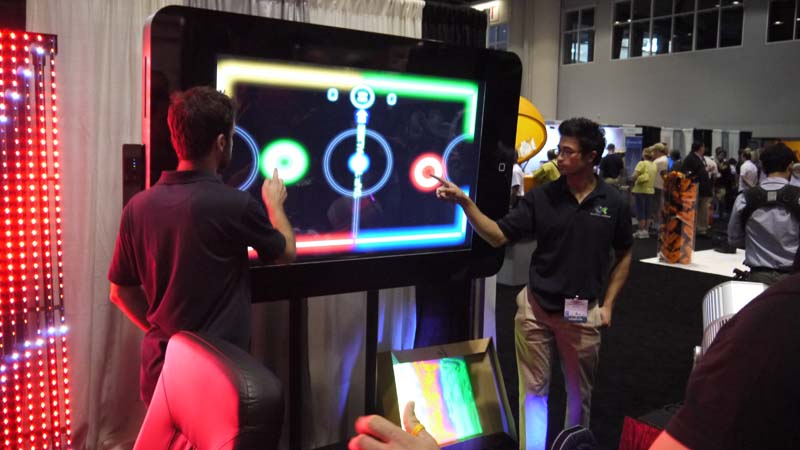 As a first-time exhibitor at IAAPA 2011, Crunchy Logistics was challenged to showcase the best of our products for attendees and vendors at the largest Amusement Parks & Attractions in the world. We exceeded the challenge.
Our booth was laid out carefully to entice the senses and keep the attendees engaged as they were guided through our experience.
We partnered with Martin Pro US to brandish some of their latest LED product lines, including a prototype Black Light LED projector that had never been seen before. Our friends at Martin showed off their LED Panel backdrop, which was displayed, front and center, and the latest line in LED projectors were placed in front of Padzilla.
The Martin Pro LEDs backdrop was enthralling, and definitely brought a large segment of the attendees to our booth. Our Martin representatives were knowledgeable, friendly, and always helpful, even when it was dealing with our products specifically. Big shout out! Thanks guys.
Our booth featured Martin Pro US's wares, alongside a 3D Without Glasses HDTV. We demonstrated our Padzilla 65" giant iPad and our multi-touch conference table.
The 3D Without Glasses HDTV was a big draw. At one end of the booth, it captured attendees like deer in headlights, and left them trying to figure out what they were looking at. As we described the technology, and how you would use it in place of digital signage or virtual property tours, they were astounded by the possibilities.
It always amazes us how ingenious people can be. Someone can look at our technology, and child-like, they will immediately find a use for it other that what we were intending.
With the multi-touch conference table, we had designers, architects, and modelers wanting to purchase it on the spot. Unfortunately, it's the one we use at the office on a daily basis. But don't worry, we'll get you your custom version shortly.
Last but not least, the mighty Padzilla. At first, some attendees thought it was just a huge touchscreen. But, when you slide out the iPad from the side drawer, or start shuffling through the familiar App Store…or play Angry Birds to scale. Then, it sets in. You're actually looking at something familiar, except it's exactly what you wanted. A huge iPad that works exactly like a 'small' iPad.
After the intensity of IAAPA 2011, we look back on the success of bringing our passion to the public. We plugged it in and changed the world. Thanks to all of you!
How Can We Help You?
Leave us a message and we'll get back in touch with you at your earliest convenience.