Turn your TV display into a touch screen easily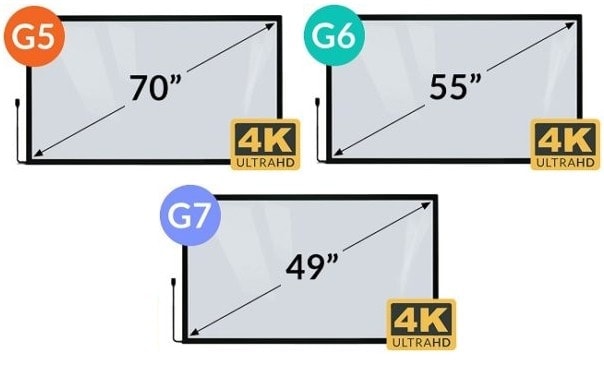 Use a multi touch overlay that is designed for your size screen
By using a PQ Labs multi touch overlay, you can turn any TV or display into an interactive surface to connect to computer running any operating system through a USB cable. Our overlays come with tempered touch friendly glass that you can easily adhere to the display itself. The overlay consists of a small metal frame border with infrared emitters and receivers that can track when things cross the plane of the metal frame border.
Customize your experience
You can also use our overlays with your own glass or no glass at all and just touch the display screen itself. However, most displays aren't made to be constantly touched and we recommend using our tempered glass or your own. We support sizes from 20″ diagonal up to 300″ diagonal with custom sizes and aspect ratios.
Simple and quick installation for a low price
Our touch overlay kits come with simple packaging and assembly and can be installed on a display in 5 minutes and plugged into a computer for a no-hassle setup and experience. Most computers and operating systems won't require drivers because our overlays use standard HID protocol and should work as plug and play. There are advanced features that you can use with driver installation like custom calibration, TUIO and flash TUIO protocol that can be forwarded to a specific port and destination. The drivers also allow for any diagnostics and troubleshooting. We are proud to support Windows, Mac OSx, and Linux/Android. We can also support iOS iPhone/iPad control and display through our Padzilla software.
Steps to turn your display into a touchscreen:
Determine the size of your display diagonal. Standard display sizes will be the most cost effective. Most TVs and displays will let you know their diagonal size in the model. If you'd like a very custom aspect ratio or large size, feel free to contact us.
Choose what kind of overlay model you would like. Available models are G5, G6, and G7. What are the differences between the models?
Head to the Crunchy Tech store and add your corresponding overlay size and model to cart and get it shipped to your location.
Prepare your display by removing it from a wall and laying it on its back on a flat surface.
Unbox your overlay package and clean the screen on the glass and your display.
Watch this installation video and follow our instructions. (Video Link)
Enjoy your interactive display!
For any troubleshooting or help in setting up your touch overlay system, please contact us.
How Can We Help You?
Leave us a message and we'll get back in touch with you at your earliest convenience.